HORMONE OPTIMIZATION: PELLETS
Today, we are bombarded with so much information, it can be difficult to sift through and decide what truly is best for you. In partnering with BioTE, I have found a committed company to sorting out what is genuinely best for our health. I personally started my hormone replacement therapy with BioTE pellets two and a half years ago. I was drawn to it because they use bio-identical hormones. This means the same hormone structure that my body naturally produces versus a synthetic hormone. Additionally, there is a dosing site that uses a patient's medical history. It includes specific medical questions, targeted bloodwork, and weight to design a personalized dose that is right for you. It is almost like magic in the way it has made me feel. There is a tremendous amount of science behind it and many decades of experience.
If you are interested in how you may benefit from optimizing your hormones, it is easy to get started. We simply draw labs in our office and require a questionnaire to help us learn more about you individually. This information is put into the BioTE dosing site and they create specific recommendations. When you come in to review these recommendations, it is possible to be pelleted the same day. Pellets are inserted just under the skin of the buttocks after a small injection of anesthesia is made. The pellets last for about fourteen weeks for women. The benefits start to kick in a few days after treatment and continue to become more evident even years later.
HORMONE OPTIMIZATION: SUPPLEMENTS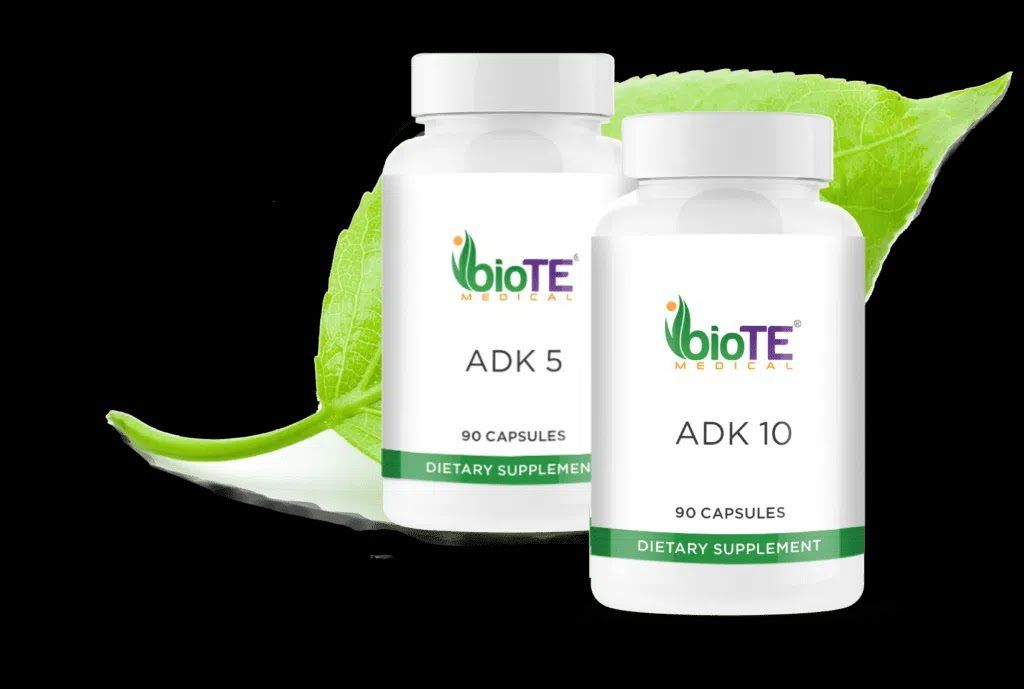 Along with pellets, BioTE has continued to dive into supplements.  They have partnered with a company to bring high-quality supplements that are bio-available (meaning your body can use them in the form they are delivered). With the high concern in current times over the health of one's immune system, there are several supplements that are important for our bodies…
Vitamin D is an extraordinarily important vitamin that supports your immune health, but is also vital in many other body functions.   Everyone should know their Vitamin D level.  Optimal vitamin D level is above 50 but I can encourage my patients to maintain a level of 70.  Low levels of vitamin D have been associated with ICU admissions and can cause serious health complications.  BioTE's ADK comes in two strengths: ADK10 and ADK5.  Most patients with low Vitamin D levels will start with ADK10 until they reach an optimal range.  At that point, they can step down to ADK5.  This supplement contains Vitamin K2 as M7 which is needed for Vitamin D to work efficiently and properly.   I have had more than one patient with severely low vitamin D levels think that I had put them on an antidepressant after starting them on ADK10!
Arterosil is another supplement that is vital for our circulatory health.  Within the lining of our blood vessels, there is a slimy coating called Glycocalyx that helps to protect the blood vessels.  Certain events such as trauma, infection, and acute lung injury as well as diabetes or increased sugar intake can damage the Glycocalyx.  Arterosil reestablishes this protection and protects our blood vessels.
There are many more supplements and recommendations that can be made to treat your concerns and issues.  We typically recommend for you to come in for a consultation to determine what would be best for you as an individual.  If you are interested, please call our office at 504-885-8363 or you can text us at 504-608-5810.  We look forward to helping you be a healthier, happier you!